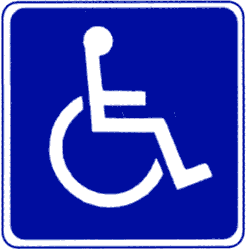 This thought came to me over the weekend as the hotel I was staying at with my wife for a fun overnight stay at the beach had a wedding going on that we both later noticed had many attendees that spoke only sign language. This prompted me to think about wargaming in a new light....Disabilities and Wargaming.
We don't see many people with disabilities playing wargames, well at least major ones. Sure we have people that participate in the hobby that may be color blind or have other illnesses but what about wheelchair, those with hard of hearing issues or even blind? Do they or we exclude them from our society because of the expectations of the gaming world?
One of the best disabilities and wargaming figures is Michael Perry (better known as the Perry brothers) whom lost his right arm during a historical recreation when a cannon misfired. He continued to sculpt and paint enjoy the hobby despite the setback life had given him.
Think about it, you are at the hobby store, you are approached by someone that is deaf but has other means to communicate with you (reading lips, using type and talk on a phone, writing down something on paper or perhaps you understand sign language) and they were interested in the hobby would you offer to show them how to play and run a game for them? A serious question to think about.
I would personally do everything I could to accommodate the other person and introduce them to the hobby to the best of my ability. How about you? Do you know someone with an exceptional story? Share it!